What Is the Best Wood to Use for a Fence in Colorado?
Wood is one of the best types of fence materials to complement numerous styles of homes, including ranch-style, American craftsman-style and modern houses.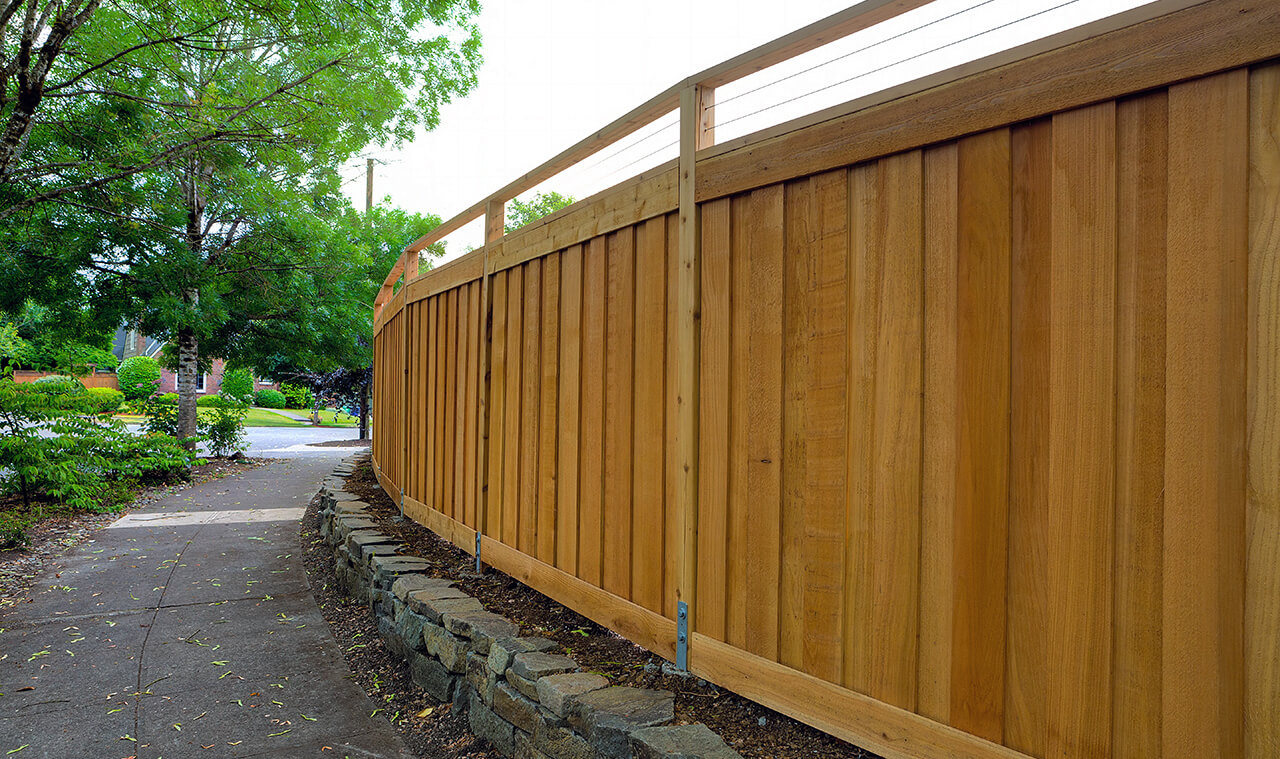 Wood is one of the best types of fence materials to complement numerous styles of homes, including ranch-style, American craftsman-style and modern houses.
The simplistic term "wood fence," however, ignores the fact that there are actually several different styles of wood fences from which homeowners along the Colorado Front Range can choose.
With the area's semi-arid and unpredictable climate, including severe weather events such as high winds and hailstorms, it's important to take durability into consideration, along with affordability and aesthetic.
There are four common types of wood fences that are appropriate for the Colorado Front Range's volatile climate: Cedar, redwood, cypress, and Rightwood. Here is a look at the characteristics and pros and cons for each type of wood fence.
Related: Make sure to paint or stain your fence to make it last longer.
1. Cedar fences
Cedar is a popular fence material and arguably the best wood for privacy fences. With a tight, straight grain and fewer knots, not to mention its attractive red hue and pleasant scent, cedar is a stable, durable wood that resists warping, cracking, and shrinking. The natural oils and acids within the wood also deter wood-destroying insects. Cedar fences are affordable and the planks can be customized to create various looks that complement the style of your house.
As opposed to treated wood, cedar does have a tendency to rot after several years of being in the soil. To counteract this potential risk, you can install the fence in a concrete base. Cedar fences on the Colorado Front Range also require occasional maintenance, such as plank replacement and applying sealant annually, but they are both quick to install and easy to repair. Plus, because cedar is a popular fence material that never seems to go out of style, it is easy to acquire for replacements.
2. Redwood fences
When comparing redwood vs cedar, they share several desirable qualities. Redwood also resists decaying, shrinking, and insects, making it a long-lasting fence material. Redwood fence boards are equally durable and their natural luster increase their aesthetic value. Because of its quality and appealing characteristics, however, redwood tends to be a bit more expensive, which is why it is commonly used for smaller enclosures.
Redwood is more resistant to rot, but it also does best when treated with a clear stain and sealant. This will help preserve its natural beauty and protect against the effects of aging. Fortunately, redwood is a softwood species that not only cuts easily, but also takes well to protective coatings, such as paints and stains.
3. Cypress fences
Cypress is also a good material for fencing that acts as a popular alternative to cedar. Cypress wood contains cypretine, a chemical that naturally deters insects, giving cypress fences a comparatively longer lifespan than other types of wood fences. Because cypress trees are native to the south in the United States, however, the cost of transporting the material can make it a pricier fencing alternative for homeowners in other regions, such as the Colorado Front Range.
4. Rightwood fencing
Rightwood, a fencing material manufactured by Alta Forest Products, is made from high-quality whitewood that is given a pigmented latex stain during creation, intended to last approximately three to five years without a need for reapplication. This protective coating augments the underlying wood's durability, making it fungus-, decay-, and mold-resistant, as well as protecting the material against the damaging effects of UV rays.
The manufacturer also can apply different shades of the stain to replicate the look of redwood or western red cedar fences.
Selecting the Right Wood Fence
As you deliberate the best wood for fence materials, there are several factors to consider. Your budget, the Colorado climate, and whether your property is plagued by insects should be weighed as you make your choice. To get a better estimate of the price of your new wood fence, check out our free cost guide. Our team of experts can also help you weigh the pros and cons of different styles of wood fences.