The Homeowner's Guide to Synthetic & Composite Fencing
Although classic wooden and wrought iron fences will always be in style, the advent of synthetic materials has widened the pool of different fencing materials and styles from which you can choose for your Colorado Front Range property.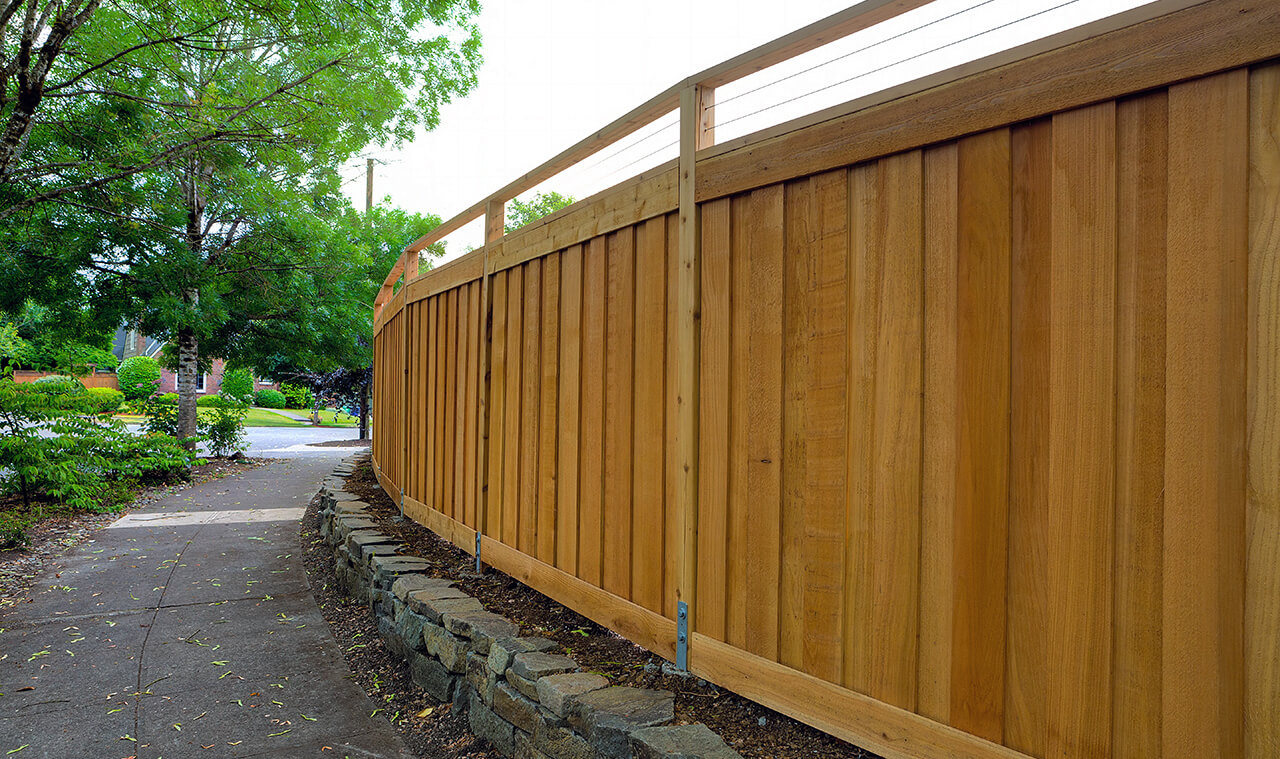 Although classic wooden and wrought iron fences will always be in style, the advent of synthetic materials has widened the pool of different fencing materials and styles from which you can choose for your Colorado Front Range property.
Synthetic fencing can be divided into two main categories: vinyl fencing and composite fencing. Those two types of synthetic fencing come in a variety of different styles and designs, giving plenty of options when it comes time to install a fencing solution that is suitable for both your objectives and budget.
What Is Vinyl Fencing?
Vinyl fencing, which came on the market in the late 1970s, is a plastic-based alternative to wood, brick, and wrought iron that was designed to require less maintenance and have a longer lifespan. Vinyl is primarily made from a combination of chlorine and ethylene, which together create polyvinyl chloride, or PVC. A majority of vinyl is used for construction and building purposes, which is why it is such an appropriate fencing material.
For constructing fences, vinyl is typically molded into panels that make for easy installation, although if the fence becomes damaged, the entire panel needs to be replaced. Because vinyl fencing is generally hollow in the center—except for the posts, which are reinforced with metal or wood—it is lightweight yet still durable against winds, rain, and snow. Available in a variety of styles and designs, vinyl can be used for privacy, picket, and post and rail fencing. Some manufacturers also offer vinyl that is designed to mimic wood or stone.
What Is Composite Fencing?
Similar to vinyl, composite fencing is a synthetic alternative to traditional materials that came on the market in the late 1990s. Composite fencing is made from a combination of recycled plastics and wood fibers, such as chips and sawdust. The composite fencing niche is currently dominated by manufacturer Trex, which is why this generic type of fencing is commonly referred to as Trex fencing.
Composite material can be fashioned into either panels or boards. They look similar to wood and can be installed in the same way. Additionally, you can use composite materials for virtually any fence style that could be created with wood. Composite fencing is typically denser than vinyl and subsequently, more durable and less susceptible to chipping and cracking.
For many people who prioritize eco-friendly solutions, the fact that Trex composite fencing is made from recycled materials that would otherwise wind up in a landfill is a bonus. Trex fencing is also available in a variety of styles, colors and sizes to match the layout and aesthetic of your yard.
What Are the Pros and Cons of Vinyl and Composite Fencing?
Vinyl and composite fences are appealing for numerous reasons. They both have certain advantages over wood and other natural materials. For example, in addition to being exceptionally durable, they require little maintenance and do not need to be painted, stained, or sealed for protection, as wood does. However, because its consistency is similar to wood, you can choose to paint or stain your Trex composite fencing to refresh its natural color or give it the tone you prefer. It is recommended you wait about 12 to 16 weeks for Trex to naturally fade before applying paint or stain so the topcoat adheres appropriately and does not become discolored.
Both vinyl and Trex materials will not splinter or rot. They are resistant to insect damage, moisture and humidity, although mold and mildew can still grow on your fence. Trex fencing can also withstand winds up to 110 mph, which is a bonus if you live in a gusty area along the Colorado Front Range.
Trex fencing and vinyl are both designed to last several decades with minimal upkeep. By virtue of being exposed to outdoor elements, your fence will get dirty and dusty, but you can easily clean it by spraying it down with a hose or hand washing it with a gentle soap.
On the downside, vinyl and composite materials are both more expensive for fencing than wood and chain link, although typically less expensive than wrought iron or other metals. Because of its eco-friendliness, composite fencing also tends to be pricier than vinyl. The exact cost for installing a composite or vinyl fence, however, depends on the height you choose, how many linear feet of fencing you need to your project, and other variables.
Another con is that with many manufacturers, your color choices for vinyl tend to be limited to white and tan. Additionally, extreme temperatures can damage both vinyl and composite materials, causing them to shrink or expand. Over time, your fencing may become discolored. Because it is comprised partially of wood, Trex fencing is also susceptible to leaf staining, water spots, and wood tannins, along with scuffs and abrasions. Fortunately, they should fade significantly with natural weathering over a period of three or four months.
Especially with vinyl, making repairs on the fence can be time-consuming and troublesome. Rather than only having to remove a single post, rail or other component, as you would with a wooden fence, you might have to replace the entire vinyl panel, depending on the damage.
Your Source for Composite and Vinyl Fencing in Colorado
If you want a fencing solution that boasts longevity, durability, and little to no maintenance, vinyl or composite fencing is the way to go. You can use these synthetic materials for a variety of fencing styles, including privacy and good neighbor fences. If you are ready to start your project, you can acquire your composite or vinyl fence from Split Rail Fence Company. Our team of professionals, which services property owners across the Colorado Front Range, can also help you select the right style of vinyl or composite fencing and handle the installation process.