DIY Fence Installation: How to Put Up Your Own Fence
There are several practical and aesthetic purposes for installing a fence on your residential property, such as creating a boundary for pets and kids, visibly separating your property from your neighbor's, or enhancing the appearance of your yard.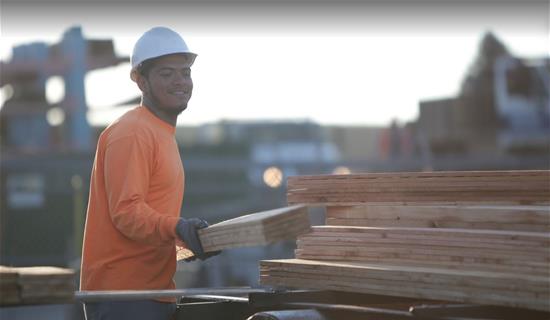 There are several practical and aesthetic purposes for installing a fence on your residential property, such as creating a boundary for pets and kids, visibly separating your property from your neighbor's, or enhancing the appearance of your yard.

Once you have decided to add a fence to your property in the Denver or Colorado Springs area, though, you must determine whether to undertake the project yourself or have a professional fence company handle the installation.
Building Your Own Fence
Depending on the type of fence you want installed and the process you choose, you can save money with a DIY project—but you will compensate for those savings with your own time and labor. Before starting the project, make sure you have done the appropriate research on how to install a fence and have the right skill level when it comes to carpentry, digging, and other pertinent tasks.
That being said, building your own fence further familiarizes you with your own property and also allows you to make a personal investment into it, which can be emotionally rewarding. To help you get started with DIY fence installation, here is a look at what steps are involved when installing a variety of different fence styles:
How to Install a Wood Fence
For building a wooden fence, the easiest fence to install yourself, you first must determine which wood works well with your environment, climate, and exterior design.
The next step is choosing the right spacing for your wood fence posts, although typical space between posts is 6 to 8 feet. Set the corner posts firsts and then stretch a line between them to guide you in marking the exact locations for the remaining posts.
Next, you will dig holes for the posts using a specific digger, which can be purchased at a fence supply store. Also, prepare the posts by putting wood preservative on the part that will be buried in the ground—about 1/3 of each post—to help prevent rotting. The third step is setting the posts.
You should first put a couple scoops of gravel at the bottom of each post hole. Once the posts are aligned, brace the posts and fill each hole with dirt, being careful not to mess up alignment during the process.
Next, you will attach horizontal rails to the vertical posts. Be meticulous during this step and carefully measure the posts to ensure the rails are accurately aligned. Finally, you can add paint or a solid or semi-transparent stain to the wood to boost its longevity and help with fence maintenance.

How to Install a Chain Link Fence
Chain link fences, another way to add security to your property, are primarily comprised of three elements: posts, rolls of chain link, and gates. The first step when installing a chain link fence is planning the layout, including where the corner posts and gates will go.
Put stakes in the ground to mark the location for the gate and corner posts. These also will be the first ones you set.
Fill each post hole—which should be about 30 inches deep and at least 8 inches wide—with concrete up to ground level and set the post, making sure it is centered and straight. Next, after the terminal posts have set for several hours, install the line posts at measured intervals and install rails below the fence caps to help secure the chain link.
You then can unroll the chain link, starting at one of the corner or gate posts. As you unroll the fence along the posts and rail, remove any slack before securing it. Finally, hang the gates and your fence is now complete.

How to Install a Vinyl Fence
Vinyl is considered one of the most durable, and therefore popular, materials for a fence. It also comes in numerous styles and colors. As with installing any type of fence, the first step of the process is planning and preparation.
Measure the area where the vinyl fence will go, depending on the size of your yard, and then purchase the right amount of vinyl fencing, posts, and other supplies for the project.
Next, mark each post location, taking extra precaution since you can't trim vinyl fencing sections. Then, dig the holes for your fence posts and place the posts one at a time, setting them with dirt or gravel and concrete. Finally, you can install the vinyl fence sections between each post, along with the vinyl post tops. Depending on the product you purchased, the vinyl pieces may snap into place or you will need to secure them with rail screws.

How to Install a Privacy Fence
Privacy fences can be made from a variety of materials, including wood, metal or synthetic or composite materials. The process for installing a privacy fence is similar to those mentioned above for other styles of fences.
With a privacy fence, however, you more thoroughly block views into your property. Before installing a privacy fence, check with your city and/or homeowners association about fence height or material regulations, which you must adhere to.
For a wood privacy fence, the most common, you will follow a similar procedure for a typical wood fence—although your privacy fence may be closer to 6 feet tall, as opposed to 3. As an additional step, you will nail pickets along the rail, creating a greater sense of security and privacy for your property.
The Cost of Installing Your Own Fence
When you choose DIY fence installation, you will typically pour not only your heart and soul but also time and labor into the project. For some property owners, the process is challenging, yet rewarding, especially since it gives them the ability to endow the structure with their own personal touch. Others may find it frustrating and not worthwhile when they could be spending their time on more profitable non-fencing work. If you have questions about fence installation in the Colorado area or which fencing materials to use, contact a professional fence contractor and let their expertise guide you through your project.
Learn about how Split Rail Fence installed a free fence for a couple who was scammed.
Sources
"How to Install a Fence." DIY Network. Accessed online at https://www.diynetwork.com/how-to/outdoors/structures/how-to-install-a-fence
"Install a Privacy Fence." DIY Network. Accessed online at https://www.diynetworks.com/how-to/outdoors/structures/install-a-privacy-fence
"How to Install Chain Link Fence." Do It Yourself blog. Accessed online at https://www.doityourself.com/stry/how-to-install-chain-link-fence
Accessed online at https://www.google.com/amp/s/m.wikihow.com/Install-a-Vinyl-Fence%3famp=1