10 Fencing Ideas for Your Colorado Springs Fence
Fences serve multiple functional and decorative purposes for property owners on the Colorado Front Range. Not only do they visually complement your home and landscape, but they also create a tangible boundary that delineates your property and creates a barrier for children, pets, and passersby.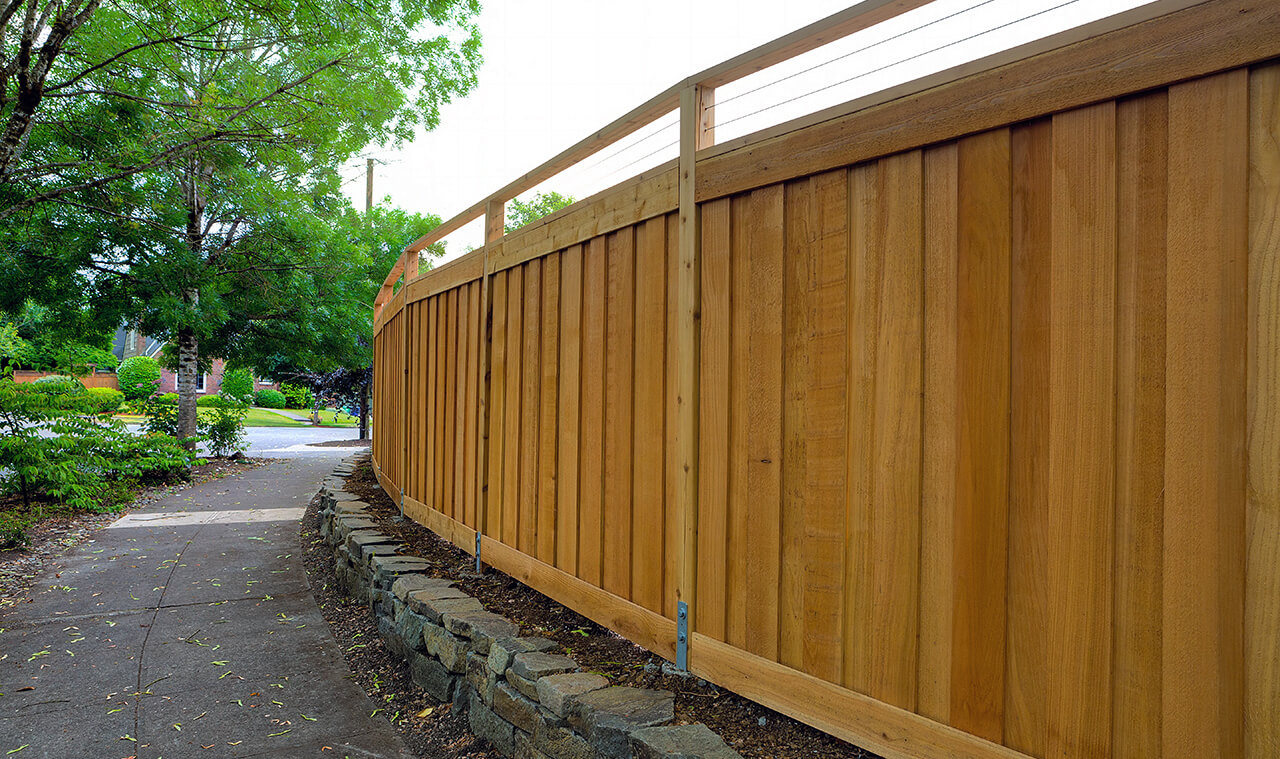 Fences serve multiple functional and decorative purposes for property owners on the Colorado Front Range. Not only do they visually complement your home and landscape, but they also create a tangible boundary that delineates your property and creates a barrier for children, pets, and passersby.
Although fences share common purposes, you also have numerous options when it comes to the fencing styles and materials from which you can choose—and how you use them.
Fencing Ideas for 2020
While traditional split rail and picket fences will always be in style, the emergence of synthetic materials gives you more options for finding a fencing style that serves your needs, fits your budget, and enhances your property value. Where and how you utilize fencing on your Colorado Springs property can also be customized to satisfy your needs and preferences. Here are 10 ideas to consider as you research options for your fencing project in 2020:
1. Go for Partial Privacy
Some property owners prefer the security and solitude provided by privacy fences, which can be made from numerous materials, including wood and vinyl. Others have great views of the Colorado Front Range from their yard or porch that they don't want to block out with a 6- to 8-foot fence. Privacy fences, however, can still come in handy for specific outdoor living spaces, such as only your backyard or a pool and/or hot tub area, where a bit of extra privacy would be beneficial.
2. Pair Formal Architecture with Metal Fencing
A major factor in determining which material to select for your fencing is the style and architecture of your home. For example, opulent wrought iron or other metal fencing pairs well with Victorian or other historical-style homes, especially when installed in the front yard. Their sleek stature and decorative finishes augment formal-looking homes, while still providing clear views of nicely manicured yards.
3. Use Driveway Gates as Focal Points
If you intend to enclose your entire property with a fence, you will need to install a driveway gate to drive your car on and off the property. However, a well-designed or decorative driveway gate can be more than a necessity. If you choose a stylish design, it can actually serve as an attractive focal point for your front yard.
4. Landscape in Front of Your Fence
If you're installing a privacy fence around your property, consider setting it back a few feet from the sidewalk to give yourself space for planting trees, bushes, or flowers. Landscaping in front of the fence, even if it is a simple, easily maintained design, can enhance the outward appearance of the fence and increase your property's curb appeal.
5. Optimize Corner Lots
Corner lots can be tricky for homeowners, as they effectively create two front yards that are visible to the surrounding neighborhood. One option for turning this challenge into a unique design element is to construct a fence with a gate across the corner portion of your yard. You will still need to install fencing along the two sides of the property that are parallel to the road or sidewalk, but you can transform the corner on the outside of the fence into an attractive greenspace or entryway into your property.
6. Use Dark or Natural Tones for Rustic Landscaping
If your rural property is filled with natural greenery and you are fencing the entire perimeter, consider using natural or dark tones to finish off the look. Unvarnished wood is a natural choice for large properties with rustic landscaping. Picket fencing and simple post and rail fences are also attractive options, but select a dark stain or paint to blend with the greenery while still being visible.
7. Dress Up Fencing With Potted Flowers
One advantage of picket fences or post-and-rail fences is that you can dress them up with flowers and plants to create a more ethereal environment in your backyard. Top post and pickets with wood planters filled with flowers or use hanging planters for a vibrant pop of color.
8. Use Reclaimed Wood from Property
If you've had to clear your Colorado Springs property or remove any large heritage trees in the process of developing it, reintegrate the wood back into your yard by using it for your fence. Although cedar is the optimal material for wooden fences, they can be created out of different types of wood and still be both durable and beautiful.
9. Decorating Trellis Fencing
If you want an even more verdant front yard, you can build a fence from black or white trellis and use bountiful wisteria, climbing ivy, or other vertically growing plants to fill in the spaces. The resulting structure adds a touch of whimsy to your yard, in addition to enhancing the sense of privacy and solitude.
10. Don't Stress Perfection
Sleek, modern wood fences, or those made from vinyl and other synthetic materials, are the optimal choice for certain properties. For other homes, however, wooden backyard fences with a few imperfections are the perfect fit. Antique wooden fences that look a little weathered or distressed, or wooden fences featuring asymmetrical posts and rails, can sometimes be the most charming, especially depending on the style and architecture of your home.
Fencing on the Colorado Front Range
Fencing comes in all shapes, sizes, and colors, which means you have a wide range of options when it comes to finding the perfect fencing solution for your property on the Colorado Front Range. As you come up with ideas for your Colorado Springs fence, gather input and cost estimates from a professional fencing company as part of your research. Split Rail Fence Company also can provide you with materials and install your fence, so you don't have to worry about the hassle and time commitment.