Which is Best? Wood vs Vinyl, Metal, Chain Link, and Composite Fences
Wood is a popular material for fences, both because of its attractive appearance and durability. As a versatile material that can be carved, painted or stained, wood is also able to complement a variety of different homes and landscaping styles.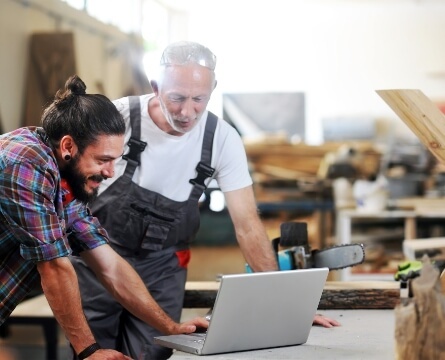 Wood is a popular material for fences, both because of its attractive appearance and durability. As a versatile material that can be carved, painted or stained, wood is also able to complement a variety of different homes and landscaping styles.
However, fences can be made from a number of other materials and still provide the same benefits to Colorado Springs property owners, such as creating a visible boundary, increasing security, and providing privacy. To determine which material is preferable then comes down to evaluating a couple of key factors:
Cost
Value
Durability
Ease of Maintenance
Here is a brief run-down of various fence materials and how they stack up against the versatile, ever-popular cedar wood pickets option.
Vinyl vs Wood Fence
Vinyl is an attractive fence material, made even more appealing by its non-porous and easy-to-clean surface. PVC is the type of vinyl most often used for fencing because of its reputation for durability and affordability. Its synthetic appearance can stick out against natural backgrounds, though, which makes it less valuable on certain properties.
Vinyl and PVC fencing is moderately more expensive than wood (depending on the type of lumber and the type of vinyl). On the flipside, because it is a type of plastic, vinyl doesn't need to be treated or stained for longevity the way wood does and, in general, is more difficult to damage. It will last about five times longer than wood with minimal maintenance, making its slightly higher price tag more worthy.
Chain Link vs Wood Fence
Even with their separate components – including metal stakes, galvanized posts, brackets and tie wires – chain link fences are almost always cheaper to purchase and install than wood, regardless of the type of lumber in consideration. Both options depend on the height of the fence and the specific source of materials, but chain link fences tend to be a fraction of the cost per linear foot compared to wood fences.
They often add less value to your property, though, in numerous ways. First of all, chain link fences are one of the lesser styles when it comes to visual appearance. Also, regardless of height, they don't offer the same privacy and security that wood does. They are easier to damage, although not as susceptible to natural causes – such as rot, mold, and termite infestation – as wood is.
When it comes to maintenance, chain link is undeniably more favorable than cedar fencing. It requires minimal upkeep as compared to wood, which needs to be regularly retreated or repainted and have all components replaced as time wears on.
Metal vs Wood Fence
Whether you choose aluminum or wrought iron, metal is often a more expensive up fencing material upfront. In fact, wrought iron is likely the most expensive fence material, with aluminum being its slightly cheaper alternative.
This may be your best material to use, though, because high quality metal fences look particularly classy and impressive, especially when paired with certain styles of houses and gardens. They also are valuable because of their durability. Although they don't provide much privacy because of the spaces between rails, they still offer security for children and pets playing in the yard or by a pool. They also are easy to maintain, with rust being one of the only issues you face.
Composite vs Wood Fence
Composite fencing is made from a combination of recycled wood and plastic and fashioned to resemble wood. As a result, there is a lot of variety among composite materials, depending on how they are engineered and applied.
Like vinyl, composite fences give you the opportunity to capture a look similar to wood that is easier to maintain over time. Composite fencing prices are slightly higher, but the lifetime value is also greater. You also have numerous options for colors and styles. While composite fences do not need to be regularly repainted or stained, keep in mind that they can be warped, expanded, or shrunk by harsh weather.
Selecting the Right Fit for You
In the end, you will want to choose a fence material and style to that meshes with your overall exterior, including landscapes, gardens, porches, and other features. Not only is that more pleasing to the eye, but it also helps increase your property's resale value.
When it comes to cost, value, durability and ease of maintenance, you have to decide which factors are most important to you, depending on your personal tastes, financial goals, and lifestyle.
If you have decided wood fencing is best for you, it's time to compare the best wood fencing materials. To get more information about various fence materials or guidance on which style is the best fit for you, contact the experts at Split Rail Fence. They are well-acquainted with the environment and climate of the Colorado Springs and Denver area and can point you in the right direction when it comes to choosing the best material for your property.